Perusahaan arsitektur di Amerika Serikat, Allied Works, membangun museum di pusat kota Columbus untuk menghormati para veteran militer. Bentuk bangunannya melingkar dengan persilangan lengkungan beton lebar di bagian tengah. Struktur bernama The National Veterans Memorial and Museum itu dibangun di atas lahan seluas tiga hektar yang terletak di sepanjang Sungai Scioto, kota Ohio, AS.Luas bangunannya adalah 4.924 meter persegi, yang terdiri dari sejumlah galeri dan ruang pertemuan. Baca juga: Museum Patung Liberty Dibuka Mei 2019 Menurut Allied Works yang memiliki kantor di New York dan Portland, Oregon, rancangan bangunan ini dimaksudkan untuk menyatukan arsitektur dan lanskap dalam satu lokasi. "Desain kami untuk museum ini membantu menginterpretasikan impian melalui bentuknya yang mengubah tanah menjadi monumen untuk melayani dan tempat berkumpulnya sesama veteran," kata kepala proyek bangunan itu, Brad Cloepfil, seperti dipublikasikan Dezeen.com.
The National Veterans Memorial and Museum di Ohio, AS.(Jeremy Bittermann / Dezeen.com) Bangunan melingkar itu seolah-olah dibungkus kaca dan pinggirannya seperti ditutupi potongan pita beton. Struktur bangunannya disusun oleh semacam tiga cincin melingkar dan menumpuk di bagian tengah untuk memperkuat bentuk lingkaran di museum itu. Sebuah akses jalan pun tersedia di sekeliling cincin tersebut sebagai jalur penghubung hingga bagian atap bangunan. The National Veterans Memorial and Museum di Ohio, AS.(Jeremy Bittermann / Dezeen.com) Saat memasuki gedung itu, pengunjung akan menemui lobi yang posisinya lebih tinggi pada kemiringan tanah dan menawarkan indahnya pemandangan sungai dan kota.


Di lantai dasar terdapat galeri pameran yang dirancang oleh studio arsitektur internasional Ralph Appelbaum Associates. "Setiap galeri dipenuhi cahaya dari layar elektronik di sepanjang pinggiran ruangan yang memberikan gambaran kepada pengunjung mengenai perjalanan bersejarah para veteran," ucap seorang anggota Allied Works. The National Veterans Memorial and Museum di Ohio, AS.(Jeremy Bittermann / Dezeen.com) Dia menambahkan, pameran yang ditampilkan dalam layar itu memberikan pandangan tentang transisi dari seorang warga sipil menjadi anggota militer, kemudian memasuki kembali kehidupan sebagai warga sipil. Di lantai atas, terdapat Remembrance Gallery dan area terbuka yang disebut Rooftop Sanctuary. "Ruangan itu ditutupi atap hijau melingkar sebagai tempat untuk orang bisa mengenang jasa para veteran serta acara seremonial bagi masyarakat," imbuhnya. The National Veterans Memorial and Museum berdiri di atas hamparan rumput hijau dengan desain lanskap oleh OLIN studio yang bermarkas di Philadelphia. Ada satu ikon menonjol bernama Memorial Grove, yang merupakan pepohonan dikelilingi oleh jalur pejalan kaki.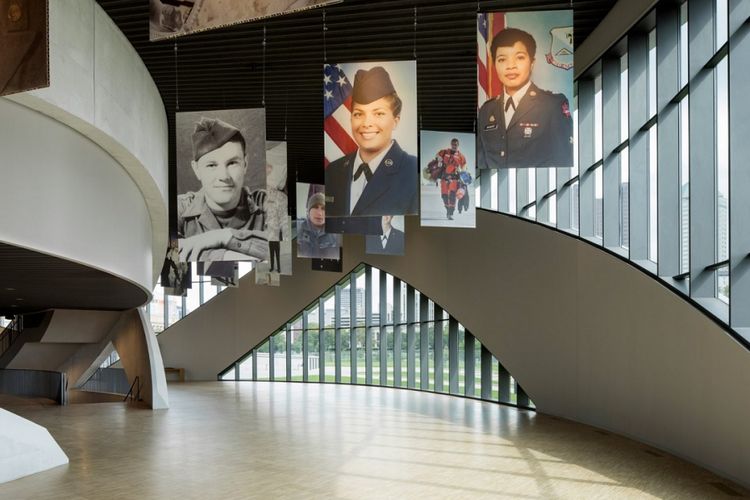 The National Veterans Memorial and Museum di Ohio, AS.(Jeremy Bittermann / Dezeen.com) Menurut Allied Works, ada banyak tempat di AS yang dibangun untuk memperingati peristiwa militer bersejarah, tetapi museum ini adalah bangunan nasional pertama yang didedikasikan untuk menghormati para veteran AS. Perlu diketahui, bangunan ini merupakan impian John Glenn, seorang pahlawan, astronot, dan politikus yang meninggal pada tahun 2016. Allied Works memenangi kompetisi yang digelar pada tahun 2013 untuk menghadirkan bangunan berdesain unik tersebut.
Dikutip dari Kompas.com
Artikel ini telah tayang di Kompas.com dengan judul "Museum Melingkar, "Ode" Mengenang Veteran Militer AS", https://properti.kompas.com/read/2018/11/12/210000421/museum-melingkar-ode-mengenang-veteran-militer-as.
Penulis : Erwin Hutapea
Editor : Hilda B Alexander